Thank you for visiting our stand at the Destinations Show
Travel News in Russia, ex USSR, Mongolia & China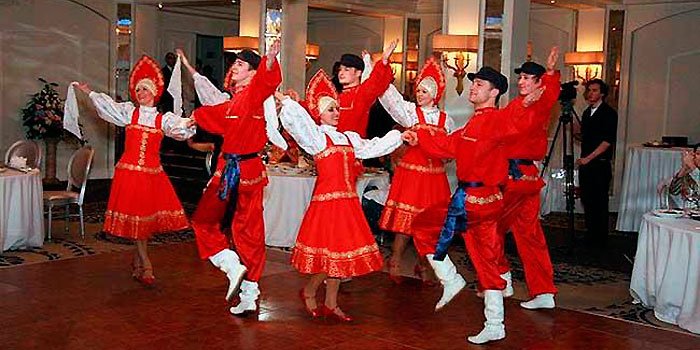 Special thanks to everybody who visited us at our stand at the Destination Show held on 3 – 6 February in London at Earl's Court exhibition centre.
We had enjoyed very much talking to you and we hope you have an inspiration to visit Russia in the near future. We hope to welcome you on one of our
tours to Russia
.
As a cultural addition to our stand Go Russia has presented an extensive entertainment programme at the Destinations Show - professional Russian dancers, Cossacks show and folklore singers. There also have been held interactive workshops in Russian music and crafts.
We had a very successful show and we hope to see you next year!
About the Show
The Destinations Holiday and Travel Show is the largest travel show in the UK for customers looking for fresh holiday ideas. The Travel Show will offer a real taste of the holiday experience with additional features like the World Entertainment Stage, Meet the Experts theatres, and Destinations Sensations presenting food and wine from various countries in the world. Go Russia will be presenting professional Russian dancers, Cossacks show and folklore singers at the Destinations Show in London Earls Court, 05-06 Feb 2011. There will be also interactive workshops in Russian music and crafts. Please view the programme below.
World Entertainment Stage
05 February (Saturday), 12:30
06 February (Sunday), 12:30
Bibs Ekkel & his Balalaika band Russian Tornado, read more
Russian folklore songs by Elena Grishina, read more
Russian dances by Anna Davydova and her young students from the ballet school, read more
Russian Workshops
06 February (Sunday), 13:40
Learn to play Balalaika with Bibs Ekkel & his Balalaika band
Workshop in Russian crafts
About Artists

Dancing group "COSSACKS SHOW"
Cossacks Show is a professional group of dancers who specialize in Cossack, Russian and Ukrainian dance. Lively Cossack songs, music and dancing handed down through generations in addition to authentic, hand-made national costumes make their performances very traditional in content, yet with a refreshing and modern twist.
Russian Souvenir Ensemble
Russian Souvenir Ensemble was created in 2008 in London. Winners of the Russian Community Council Crystal Star Award for the popularisation of Russian culture, the Ensemble is well-known in the Russian Diaspora. Russian Souvenir participates regularly in cultural festivals and events in London and the South East and always attracts large audience with its colourful costumes, fiery dancing and masterful vocals.
Bibs Ekkel & his Balalaika band Russian Tornado
The BALALAIKA is probably the most recognized and well-loved of Russian folk instrument and Bibs Ekkel, prima balalaika soloist, is one of the well-known and internationally recognised top masters of the instrument outside Russia. His style elevates the balalaika to the stature of concert instrument while retaining close ties with the instrument's folk heritage. Bib's instrumental group "Russian Tornado" regularly tours North America and he has performed as soloist throughout the world, including in Russia, Poland, China, Britain, the US and Canada.
Elena Grishina
Elena is a professional Russian folk singer with a distinctive style that combines rather strict authenticity with energy, passion and gusto. She lives and works in London. Her performances are a real feast for all lovers of Russian musical traditions.
Anna Davydova, DIP BBO
Anna is a professional dancer, ballet teacher and choreographer, with more than 12 years international experience adept at combining a strong educational ethos with an outstanding artistic talent. Having been studying and practicing ballet in Russia and Sweden, she nowadays successfully runs her own dance school in West London. The Russian dance performance on the World Entertainment Stage will be presented both by Anna as a soloist dancer and by her young students from the ballet school.
VIEW VIDEOS

February 07, 2011