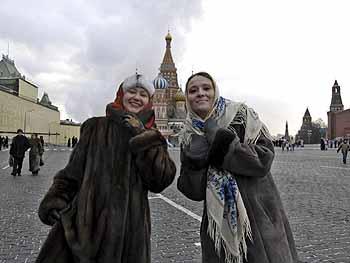 We would like that all potential travellers who visit our website book a tour to Russia with us and enjoy their holidays. We are aware there are lots of comments in printed media, TV, online about Russia and unfortunately many of them show only one side of the same coin.
We, as Russian experts, who know the country very well would like to clear up some misconceptions and clarify the most common concerns people might have about the country.
Given current political disagreement between the western (EU, US, etc.) and Russian authorities, Russia is not a perfect holiday destination
This is simply not true. Russia is a very safe country and people welcome foreign tourists. There is no political turmoil in the country, no protests on the streets, no any military actions of any kind. When travelling with us you can be assured that you will receive the very highest service and you will also be accompanied by a guide if you are on a group tour or a tailor-made travel arrangement that includes guide services. You just need to have common sense like in any other big city like London or New York. We provide a 24-hour emergency support and our operators will be able to assist you in any unforeseen circumstances. Please also check the travel advice for Russia from the Foreign Ministry of your country of residence (e.g. UK - https://www.gov.uk/foreign-travel-advice/russia).
Russia does not approve visas / it is difficult to get the Russian visa
Not true either. There are several restrictions for some government officials imposed by the EU, US as well as by Russia. However this does not affect citizens, either European or US, travelling as tourists. All our tours include visa in the tour price and we will check your forms and lodge your documents with the Russian consulate. No Go Russia customer joining our tours has ever been refused a
tourist visa to Russia
.
I / we have read there have been multiple bankruptcies in the travel industry in Russia, we better not book now
This is unfortunately the fact and that affected many Russians who booked their holidays abroad. Insolvencies do happen in the modern world and are common in the US, UK or other countries all over the world. More important is what procedures are in place to safeguard peoples' money.
Go Russia is a company established according to the UK laws with the head office in London, we also have operational offices in Russia, Ukraine, US, Germany. When you book with Go Russia you can be certain your money will be safe as we hold valid insolvency insurance. Read more about your
financial protection
.
When arranging tours in Russia we have direct contacts with hotels, guides, transport companies, thus avoiding any intermediary operators.
I / we have heard about sanctions including money, food, and this is not good for enjoyment of holiday
Yes, there are reciprocal sanctions imposed in various sectors by the EU, US and Russian authorities and according to estimates they are not good for any economy involved. As a tourist you will hardly notice any negative affects of those sanctions.
In terms of meals – as usual there will be plenty of choices of food including local Russian as well as European, Asian and other international cuisine.
Regarding money – you can continue using your credit / debit cards in Russia and most cards are widely accepted (Visa, Mastercard, Amex). Russia is becoming much cheaper to tourists now with falling rouble rate. You will be spending about 25% less for food, souvenirs, etc in Russia now as compared with the previous year.
I do not support Russian politics and do not want to finance the country by spending my money there
We appreciate that, and everyone can have their own opinions. But we also think it is very important to learn other peoples' views on the same issue. Going to Russia will add much to your general knowledge, it will allow you to experience local culture, traditions, listen to other opinions. It will definitely broaden your horizon. If this is absolutely irrelevant for you, we can say that going on a tour with us means supporting museums and cultural landmarks - our world heritage that exists without any referral to politics.
What do our recent tourists say?
Please read some recent postings on our
guest book
or on
Tripadvisor
. Most people say they are glad they went to Russia recently, it was a fantastic experience: "This was our first visit to Russia and we had felt somewhat apprehensive. We need not have been concerned. The rather austere and even alarming picture of Moscow commonly perceived in England is entirely wrong…"
Thank you for reading and we hope to see you among our customers soon. Please continue browsing our website.
Tours to Moscow and St. Petersburg
Tours along the Trans-Siberian railway
Russian river cruises
Adventure holidays in Russia
Special offers
Your Go Russia Travel Team

October 15, 2014