Tailor-make your trip
In addition to
Go Russia organised group tours
, we also offer individual trips. This could be an entirely separate holiday arrangement or an extension to a regular "Go Russia" trip. Depending on your preference for either comfort or budget, we can help you to design the ideal itinerary and provide the optimal value-for-money quote. View our
customers' feedback.
Please fill in our request form below and we will be in touch shortly. Alternatively you can
contact us
either by phone or email.
Fields marked with * are mandatory.
Your details
Interested in tour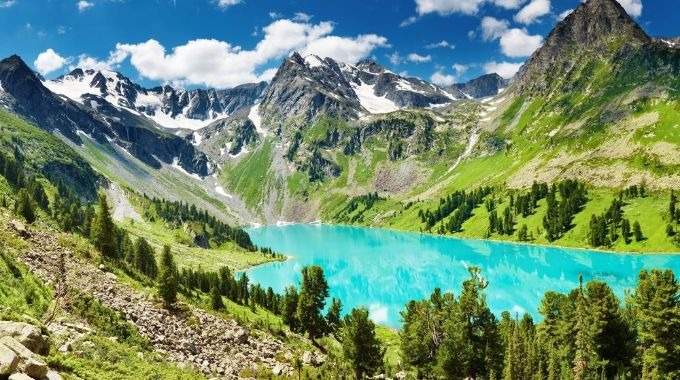 Discover The Wild Beauty Of The Siberian Part Of Russia By Trekking (AL-04)
Altai, the so-called Russian Tibet or Heart of Siberia, is a unique place, ideal for active holidays! The purity of the mountain air and the crystal-clear water of numerous lakes and rivers will make your trekking in Altai unforgettable! Our route crosses the area of lake Ak-Kem, which rests at the heart of the Altai mountains. Here you will find one of the most beautiful spots for trekking in the world – breathtaking views of mountains and lakes, green forests and valleys covered with blossoming wild flowers. The delicious honey collected in this region is famous for its healing qualities.

The mystical tranquility and the local beauty gave rise to the numerous legends of Altai: about the mysterious treasures of Skifs, and Genghis Khan, part of whose army settled here exhausted after years of long raids into Europe. Located on the border of Europe and Asia, Altai holds the secrets of the many ethnic groups who have inhabited this area since the times of Egypt's pharaohs. It is bursting with natural treasures – 5 natural phenomena in the region are on UNESCO's World Heritage list. The land of Altai is too beautiful to miss!

This is comfort trekking meaning you do not need to have any special skills, it is suitable for anyone in a good physical form, you need to be prepared to spend a few hours a day trekking. We have also included cargo horses to carry your personal (up to 10 kg) as well as group equipment. Accommodation is in a guesthouse at basecamps and tents while on route.
Trip details
Regions / Cities you would like to visit: