Golden Ring
The Golden Ring is one of the oldest Russian routes and is currently the most popular tourist route in the Russian provinces. It goes to the north-east of Moscow and forms a circle. All cities and towns are located relatively close to each other, so the 'Golden Ring' itinerary literally has a form of a ring. There are many interesting ancient Russian cities and towns along the way, full of history and unique Russian architecture of the XII-XVII centuries. However the Golden Ring is not only a collection of architecture masterpieces and charming landscapes of the middle Russia. It is also an opportunity to get acquainted with the life of Russian provinces, unhurried and calm, not spoiled by the hustle and bustle of big cities. For example, nobody in a small town gets surprised or upset if a herd of cattle block the traffic along the central street.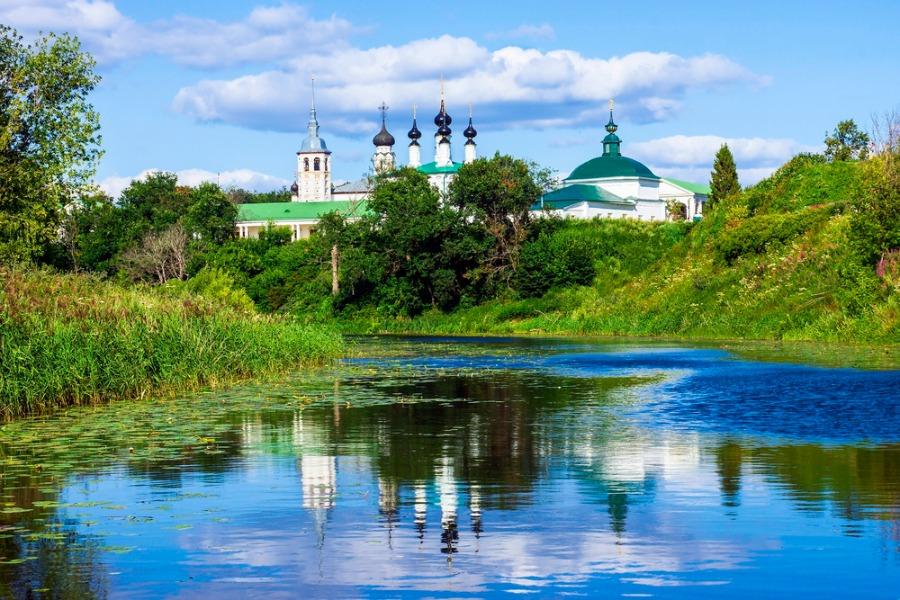 Depending on the time available, you can choose short-one, two or four days – trip to the main points: Sergiev Posad, Vladimir and Suzdal, Kostroma and Yaroslavl. But if you would like to examine thoroughly all the towns of the Golden Ring – and there are more than twenty of them – it will take you nearly a fortnight.
The
Golden Ring tour
starts in Moscow. The tourists head north to Sergiev Posad, 70 km away. For a long time Sergiev Posad, home of the 14th century Trinity St. Sergius Lavra ("a major monastery" in Greek) was the country's spiritual centre – sort of Russian Vatican. In the city there are a monastery, a theological seminary and the Art Museum – reserve displaying the Orthodox history of Russia. In 1993 the Trinity-Sergius Lavra was included on the UNESCO World Heritage list.
Suzdal is possibly the most magical of the Golden Ring towns. With its Kremlin, market stalls, monasteries and countless little churches, this museum city has hardly changed over the last two and a half centuries. More than 200 architecture monuments of the past millennium are concentrated here. And on every corner "medovukha" is sold, an ancient Russian drink, sort of honey beer.
The final stop on the circular route of the Golden Ring is always Vladimir, the ancient capital of the Russian state, where frescoes by the icon-painting genius Andrei Rublyov can be seen in the Cathedral of the Assumption.
Along the whole Golden Ring, there are settlements where masters of folk arts have been living for centuries. And today still crystal ware is produced in Gus' Khrustal'ny (Crystal Goose), painted wooden caskets in Palekh, painted metal trays in Zhostovo, big and brightly ornamented shawls in Pavlovsky Posad, enamel jewelry in Rostov. You will hardly find a traveler who could overcome the temptation to take along at least one traditional Russian souvenir to remember the far-away country.