Home
Holiday Planner
Visa Free Tours to Russia
Explore Russia Visa Free by Ferry from Helsinki: St. Petersburg - Moscow - 5 days (VF-01)
Explore Russia Visa Free by Ferry from Helsinki: St. Petersburg - Moscow - 5 days (VF-01)
Note: Lenin Mausoleum will be closed from 23 April till 13 May 2019. We apologise for the inconvenience caused.
5 days
Choose your date
Select a date
Select a date
02 May 2019
15 May 2019
23 May 2019
29 May 2019
12 June 2019
20 June 2019
26 June 2019
04 July 2019
10 July 2019
18 July 2019
24 July 2019
01 August 2019
07 August 2019
15 August 2019
21 August 2019
29 August 2019
04 September 2019
12 September 2019
18 September 2019
26 September 2019
02 October 2019
10 October 2019
16 October 2019
24 October 2019
30 October 2019
07 November 2019
13 November 2019
21 November 2019
27 November 2019
05 December 2019
11 December 2019
19 December 2019
25 December 2019
or
Choose your own date
Book now
Inquire
Compare tours
Explore Russia Visa Free by Ferry from Helsinki: St. Petersburg - Moscow - 5 days (VF-01)
If you're short on time and don't wish to apply for a Russian visa, then this is the tour for you, a 72-hour trip taking in the highlights of Russia's two largest cities. Our professional guides and drivers will ensure that you see all the major sights of elegant St Petersburg and buzzing Moscow. You'll visit the Peter and Paul Fortress, be awed by the huge art collection at the Hermitage Museum, get up close and personal with Lenin's embalmed body in his mausoleum and of course have a tour of colourful St Basil's Cathedral in Red Square.
Itinerary
Dates & Prices
Reviews
Accommodation
Optional Tours
Schedule
Tour details
Day 1
Helsinki
Departure to St. Petersburg. Ferry Princess Anastasia
Departing from Helsinki, you'll board the Princess Anastasia ferry bound for St Petersburg.
Day 2
St. Petersburg
Exploring St. Petersburg. Visit Peter & Paul's Fortress. Boat Trip. Departure to Moscow
St Petersburg is known as the Venice of the North so what can be better than seeing the city from its waterways? We'll travel by boat (during navigation period, otherwise by car) along the River Neva and the city's many canals past palaces, parks and cathedrals. After your guided city tour around St. Petersburg you will visit Peter & Paul's Fortress which warrants a closer look. It was built on tiny Hare Island to secure Russia's position on the River Neva delta during the Great Northern War against the Swedes. Surprisingly, its cannons didn't actually fire a single shot for over 200 years, springing into life during the 1917 Revolution. Now this fortress-cum-prison has been converted into museums and features a splendid cathedral containing the tombs of the Romanov monarchs. In the evening we'll transfer to the railway station to take the overnight train to Moscow. You can opt to travel in the regular second-class compartment or choose one of the Grand Express' luxury carriages, more like a hotel on wheels than a train. With showers, sofas, TV and Wi-Fi, you'll travel in a style fit for a Tsar.
Day 3
Moscow
Highlights of Moscow: Kremlin, Armoury, Red Square. Departure to St. Petersburg
Arrival in Moscow early in the morning. The Russian capital has so much to see that without the help of our guide you'd be wondering where to start. Our guided city tour takes us to Lubyanka Square, the world-famous KGB centre of the Soviet epoch, and the Teatralnaya Square where the famous Bolshoi Theatre is located. On foot, we'll explore the lanes of the centre city before reaching Red Square. Its world-renowned sights, including the brightly-painted domes of the 16th century St Basil's Cathedral, the enormous GUM department store and pretty Kazan Cathedral attract millions of tourists each year. We'll pay a visit to Lenin's Mausoleum (note: no visit to the Mausoleum is possible for tours with departures on Wednesdays) where the great leader's body is embalmed and step inside the imposing walls of the Kremlin and admire the golden-domed churches in Cathedral Square, where Moscow's roads once converged. Inside the Armoury, you'll find the Kremlin's weaponry as well as treasures including the exquisite Faberge eggs and delicate pieces made from gold, silver and precious gems. We'll also have time to take a look at the Moscow Underground. One of the masterpieces of the Soviet era, this is no ordinary public transport system with its lavish interiors featuring marble, stained glass, mosaics and beautiful sculptures. Later we'll transfer to the railway station for our Grand Express train back to St Petersburg arriving in the morning.
Day 4
St. Petersburg
Catherine Palace & Amber Room. Hermitage Museum. Departure to Helsinki
Today we will drive to one of the major architectural treasures of Royal St. Petersburg, Tsarskoe Selo (Pushkin) located 25km south of the city. Its Alexander Palace was where the Tsars once lived, but we'll focus our attention on the sumptuous Catherine Palace. The star of the show at this divine Baroque palace is without doubt the Amber Room, now restored to its former glory. No visit to St Petersburg would be considered complete without a visit to the Hermitage Museum. This world-class art museum is housed in the Winter Palace which was once a residence of the Tsars. Today over three million works of art are waiting for your attention, featuring all the big names: Picasso, Gauguin, Da Vinci, Raphael and more. You'll be sorry you have to leave, but it's time to return to the port where the Princess Anastasia ferry awaits to return you to the Finnish capital.
Day 5
Helsinki
Arrival in Helsinki
Upon request we can arrange tours and accommodation in Helsinki, please enquire.
Tour Dates & Prices
Book Now
Ferry Princess Anastasia
St. Peter Line operates regular connection between Helsinki and St. Petersburg on a modern ferry Princess Anastasia. Princess Anastasia is a modern passenger ferry with a total passenger capacity of 2 500 people. The ferry features comfortable cabins of different categories, several restaurants, bars, aqua-zones, duty free shops, cinema and music hall with regular show performances by St. Petersburg Music Hall ballet theatre.
Learn more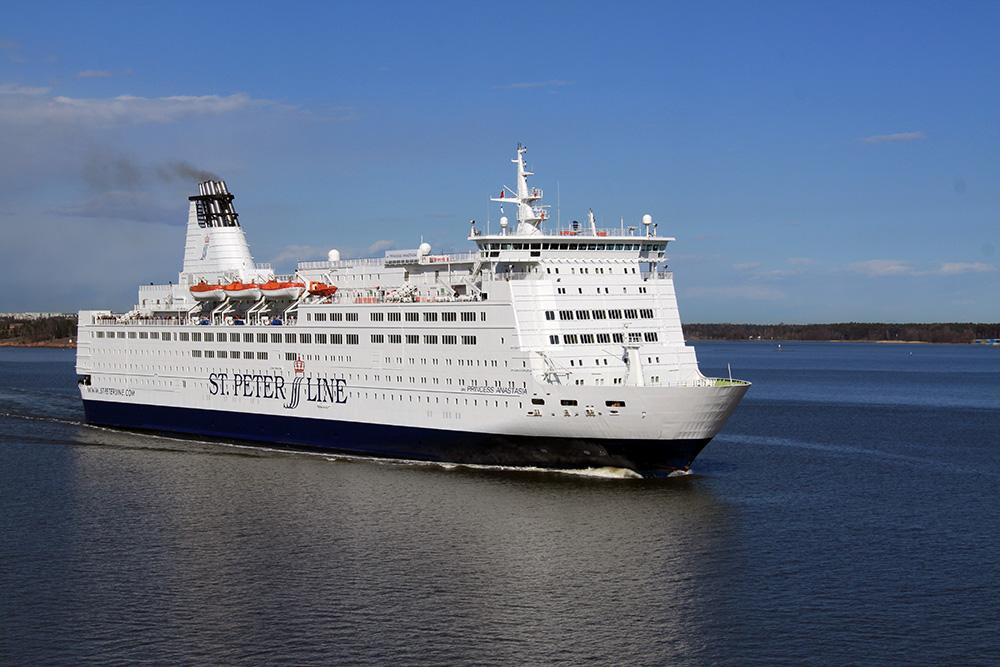 Hotel Katerina City Moscow 4*
Katerina City is located in the picturesque district of the Russian capital, on the bank of the Moscow River, just two metro stations to the Red Square. A wide range of facilities makes the guests' stay comfortable and pleasant and modern European architecture and fresh interiors in a Scandinavian style combined with the home-like atmosphere make this hotel a perfect holiday retreat. The hotel rooms feature elegant and modern design, comfortable furniture and superb amenities. Your accommodation also includes free drinking water and tea / coffee making facilities. Sauna and fitness centre are free of charge: 07:00 – 23:00.
Learn more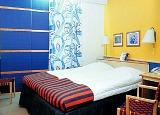 Please read
notes
at the bottom of the table to learn more about the meaning of each pricing section.
Note on pricing:
All prices are per person, in British Pounds. All included services are listed in the tour dossier and the right-hand side column, section "Included".
Price "Including flight" is subject to airfare availability and will be reconfirmed upon your booking. We advise not to delay with booking your tour as airfares may go up.
Price "Excluding flight" does not cover airfare, you are free to book your own flights.
Single supplement goes towards single room (cabin for cruises) accommodation.
Solo supplement is payable in the unlikely event when you are the only person on the tour. It will be refunded if other people join the same tour.
"Train upgrade" supplement means an upgrade for a compartment for 2 people and refers to overnight trains only. Advisable to book if you prefer more privacy and comfort during your overnight train journeys. Read more about train upgrade.
We thrive on feedback! We are very happy to have served thousands of happy customers who travelled with us. Please browse our guestbook below, read our clients' feedback on
Tripadvisor
and also watch a short
customer's interview
sharing her travel experience with Go Russia. To respect our clients' privacy all names are encoded.
Visa free but with excellent guides and enough energy it was wonderful. The guides and sightseeing were great, all went like clockwork and would highly recommend. —
Freya Ball
It really was a wonderful experience and the guides were terrific. I will definitely be recommending to my friends. —
Yasmin Kennedy
Had a fabulous time. Guide and drivers in St. Petersburg were great. Very knowledgeable and friendly. —
Charlotte Jones
Both guides I had in St. Petersburg and in Moscow were incredibly knowledgeable about Russia and especially Russian history as well. I loved the trip: it was fast paced and I enjoyed every minute of it. Thanks —
Elaine Newton
The Russian element of the trip was brilliant. Very well organised, everything ran on time, our guides and drivers were superb. Our guides were friendly and knowledgeable and very helpful. We thought the design of the trip was fantastic, if a little tiring, but we were amazed at how much we saw in such a short space of time. The hotel in Moscow was definitely needed. Overall, we had a wonderful trip to Russia - we very much liked the country and its people. —
Barbara Hampton
Everything was above our expectations. But our guides, Sophia in St Petersburg and Alviera in Moscow were exceptional.The two drivers were great as well, especially Vladamir in St Petersberg.The whole itinerary was spot on! —
Ralph Gonzales
Your 72 hr St. Peterburg tour was well organised and exactly what we required —
Ronald Coleman
Our tour guides (Tatiana in St Petersburg & Elena in Moscow) were incredibly knowledgeable and clearly loved their cities. Whilst the itinerary was intense, it was important to see as much as possible within our 72 hours and we feel that we did see all of the primary sites - as well as visiting some lovely local restaurants for local cuisine. —
Constance Williamson
Excellent timing throughout & availability of the hotel for the Moscow day trip section of the tour —
Annette Cobb
Thank you for arranging the itinerary for me. I'm just on the boat back to Helsinki and I just want to say how well it was planned and how knowledgeable and nice the 2 guides where in St Petersburg and Moscow (Natalia and Elena / Helen). Thanks to all involved and I will be recommending Go Russia to others considering for this same trip. —
Adrian Mclaughlin
Please see below an approximate tour schedule for your better planning.

Day 2 - St. Petersburg
08:30 Arrival in St. Petersburg. Passport control. Meeting with your guide / driver in arrival terminal.
10:00 - 16:00 St. Petersburg city tour. Peter and Paul's fortress. Boat trip.
16:00 - 22:30 Free time.
22:30 Transfer to the railway station.
23:40 Departure to Moscow by train.

Day 3 - Moscow
08:14 Arrival in Moscow. Transfer to the hotel. Check-in.
09:00 - 17:00 City tour, Red Square, Kremlin and the Armoury, Moscow underground guided tours.
17:00 - 22:30 Free time.
22:30 ​Check out from the hotel. Transfer to the railway station.
23:40 Departure to St. Petersburg by train.

Day 4 - St. Petersburg
08:35 Arrival in St. Petersburg. Meeting with your guide / driver. Breakfast at cafe.
09:30 - 17:00 Tsarskoe Selo. Hermitage Museum.
17:30 Transfer to the port.