Scarlet Sails Festival in St Petersburg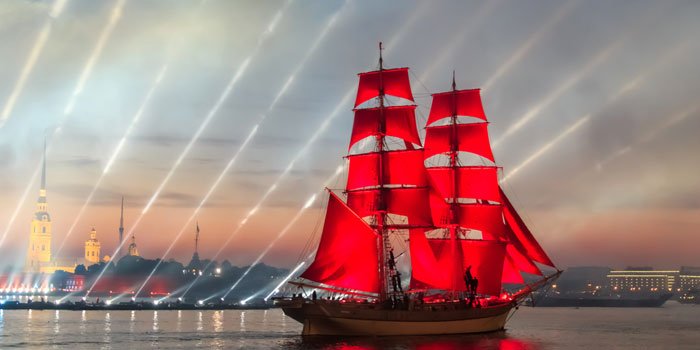 In mid-summer, St Petersburg makes the most of its northerly location to stage the White Nights Festival. One of the most popular events is called the Scarlet Sails, or Alye Parusa. It takes its inspiration from a children's book authored by Alexander Grin almost a century ago. In it, he writes of a boat with scarlet sails passing by the city's English Embankment and Admiralty Embankment in the direction of the Winter Palace.
For today's young St Petersburgians, it signals that school's out for summer. The brigantine with its colourful sails represents a person's journey towards their dreams and as such fits perfectly with those about to embark on a new chapter in their lives. So after the stress of study and exams, it's time to drink, play loud music and let off some fireworks as the party spills out onto the streets of Russia's former capital. Why not let your hair down and join them? In the past, entertainment has been provided by the likes of Cirque du Soleil, the Mariinsky Ballet, big name bands and Hollywood stars such as Antonio Banderas. Things do get a bit rowdy but it's all good fun.