The Moscow Tchaikovsky Conservatory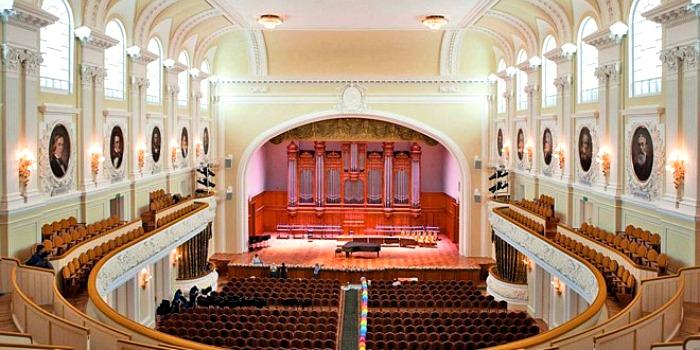 Rachmaninoff, Scriabin, and Tchaikovsky are among the famous composers who have played or worked here. The acoustics of the magnificent Main Hall are superb as well as the design of the Hall with beautiful portraits of the world's great composers on the walls of the Hall.
Being one of the biggest musical concert halls in the world, the Moscow Tchaikovsky Conservatory has a complex of concert halls providing the best professional stages for any type of concert performances. These include a wonderful Main Hall which is widely used both for symphony, choral, organ and chamber concerts plus a 'quartet' of chamber halls - Small, Rachmaninov, White and Conference Hall - each of them having its individual look, acoustic features and long interesting concert traditions.
To perform and study at the Moscow Conservatory has always been a dream of every professional in the world of music. Mecca to the musicians from all over the world, it is also home of the most prestigious International Tchaikovsky Competition since 1958.