Yury Nikulin's Circus (Old Circus) in Moscow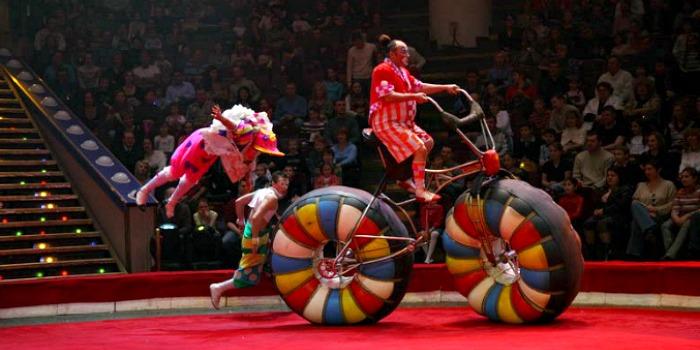 The circus has always held a very special place in the artistic life of Moscow and has become one of Russia's most beloved national art forms. At the beginning of the 19th century the fashionable horse circus made its way from Europe to Russia and here it faced the challenge of the Russian balagan or tradition of clowning and tomfoolery. The Russian balagan first appeared in the 17th century in fairs and outdoor festive gatherings in towns throughout Russia.
In 1702 Emperor Peter the Great ordered a public theatre, large enough to house 400 people, to be built on Red Square, and during the intervals clowns used to entertain people and draw enormous crowds.
In 1880 a former circus horse rider and gymnast, Albert Salamonsky, came to Moscow and built a circus on the city's Tsvetnoy Boulevard. It housed 5 rows of armchairs, boxes, a dress circle, a second row of benches and a stand-up gallery. A stone building for the horses' stables was added to the circus in 1884 and a swimming pool for water performances was constructed 5 years later.
This Old Circus (called also Yuri Nikulin Circus named after Russia's most famous clown and the former long-time director of the circus, is in some ways returning to its traditional roots today and is featuring more and more of the clown acts and tomfoolery that became popular during the 17th and 18th centuries in Russia.
The circus also features an excellent range of acrobatic and gymnastic acts, and performances featuring bears, horses, monkeys and dogs. Performances are held on weekdays at 7pm and on weekends at 2.30pm and 6pm.