Krasnoyarsk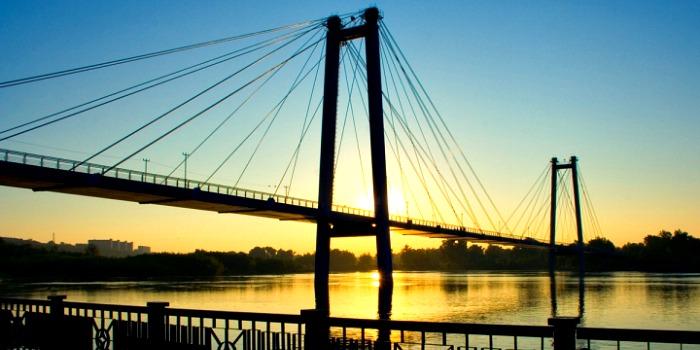 Krasnoyarsk is another large scientific and cultural center of Eastern Siberia, besides it is the largest Siberian port on the Yenisei River. The city was founded in 1628 by Russian explorers directed their steps to the Far East. In their report to the Russian Tsar, they described the place as «beautiful steep bank». The variety and beauty of the Krasnoyarsk Region are striking – high mountains and deep canyons, the boundless and thick taiga where one can see ermines, polar foxes, deer and bears.
HIGHLIGHTS & SIGHTSEEING IN KRASNOYARSK
The City Tour will enable you to see the most interesting spots in Krasnoyarsk - the Intercession Cathedral; the Chapel on the Karaulnaya (Guard) Mountain, and the Transsiberian Railway Road bridge over the Yenisei River. The Krasnoyarsk Hydroelectric Power Plant Tour is a rare possibility to visit one of the hugest hydroelectric power plants in the world.
The Surikov Art Museum has more than 13,000 exhibit items including Russian and modern painting, graphics, sculptures, and decorative art. The Museum possesses the unique collection of paintings of this famous Russian artist of 19th-20th century.
The Yenisei Pillars Tour half-day itinerary will lead you to the State Natural Reserve that is situated near the city on the right bank of the Yenisei River and it is well known for its unique natural granite structures, which rise up to 100 m high.
The Local Lore Museum is constructed in a style of an ancient Egyptian temple and it houses a number of halls with rich collection of archeological and ethnographical displays.