Vladivostok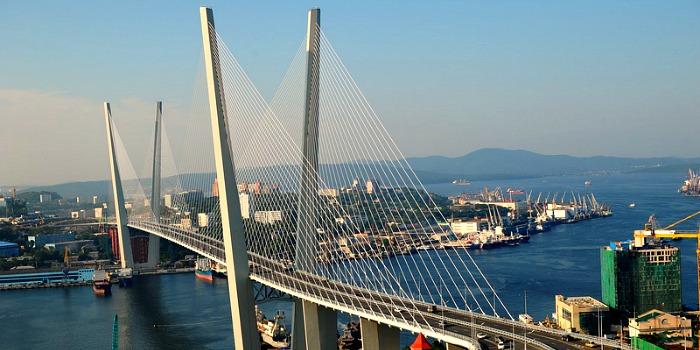 Vladivostok is the administrative, cultural and scientific center of Russia in the Far East situated along the coast of the Pacific Ocean in the beautiful bay of the Golden Horn. The history of the city began in 1860 when the Russian warship «the Manchur» anchored in the bay of the Amur Gulf. It became the main Russian port on the Pacific Ocean in 1873. Now it is main naval base of the Russian Pacific Fleet. Today Vladivostok it is the capital of the Primorsky region (the Maritime Territory) of Russia. Due to its advantageous location in close proximity of China, Korea, and Japan, it plays important role as a center of political and business contacts of Russia in the Far East.
HIGHLIGHTS & SIGHTSEEING IN VLADIVOSTOK
The City Tour will give you possibility to visit the most spectacular sights - the Vladivostok Fortress with exciting exposition of military maps, arms, equipment and old photographs; enjoy the architectural poem in stone that are the St. Nicolas Cathedral, the Intercession Church, the Catholic church and the Japanese Buddhist Temple. In the Korabelnaya Naberezhnaya (the Warship Embankment) the visitors can get acquainted with the history of the Russian Fleet including period of the Second World War and visit Soviet C-56 submarine opened to public.
The Primorye Picture Gallery houses more than 5,000 paintings of Russian artists (18th-20th centuries) and ancient Russian icons.
The Vladivostok Aquarium (Oceanarium) features live exposition of 86 species and over 1,800 kinds of marine life in aquariums, representing a variety of inhabitants of the Peter the Great Gulf and other water reservoirs of the region and a collection of shells.
Greenhouses of the Botanical Garden display rare plants from all of the continents. Representative species of the Far Eastern taiga, from cedar and spruce to lianas and Amur marigold, grow there. The six wildlife preserves (among them most significant - the Cedar Fold, the Khanka Natural Preserve) provide a wide variety of experiences to view wildlife and nature.